is sparkle a color?
My friend Sean was in town over Thanksgiving weekend. I've known Sean for like twelve years or something crazy. Seriously, look at us way back in high school:
and look at us now!
I like when Sean smiles and when he laughs. I like how nice he has alway been to me and to others and I like how he has this crazy way of making me feel like I am the coolest person alive whenever I see him. He's quality.
When we got up, he noticed my gold sequins boots and commented on them. I said "Thanks! Sparkle is my second favorite color, after pink." and he quickly said "sparkle is not a color."
To which I disagreed and insisted that sparkle is indeed a color. He told me if I could find him a Crayola crayon called "sparkle," then he'd give it to me. I responded with the idea that crayola only has like 130 different colors and despite what he said, there were plenty more colors than that. He insisted that if it's a color, crayola has a crayon.
So I asked the lady who was ringing us up if sparkle was a color. The very moment that she said yes, an older couple at the table behind us piped in. The woman said "yes," the man said "no," and then a man walking past us said "sparkle is not a color, don't give in."
Later, when I went to Beth and Mitchell's house I asked them if sparkle was a color. Mitchell said no. Beth said yes.
I'm thinking that boys do not recognize sparkle as a color, but girls totally do.
I am looking for more input. Is sparkle a color?
Also. These are my gold sequins boots that started the whole thing:
changing.
I hate change. Call it ocd, call it a need for security, call it whatever. I just hate change.
Lately I've been trying to enjoy the changing of seasons. I tried getting into the whole pumpkin spice thing. I carved a pumpkin and went to a pumpkin patch, even took a hay ride. I noticed the leaves as they would catch fire, and started greedily cherishing every moment of the fleeting daylight.
The other day I mentioned how I have only gone to Camp Arnold once since I got my new car. Once. I cried as I pulled in, feeling like I was arriving back home after a long trip away. But I have yet to return. A few hours after realizing that, I found myself at my new, unfamiliar camp, walking down a path I'd never been on and taking in the overwhelming feeling of change. Perhaps there will be a moment, years down the road, when I know the steps of this path like I learned the roots of the Wander Weg Trail at Camp Arnold. Maybe I'll know the shortcuts and hideouts and perhaps I will even discover my white bench by the lake – a place where God is always waiting for me to sit next to him and be still.
I am thankful for my God who gives me peace in moments I do not have the strength to remain calm through. When I take a plunge into the depths of faith, he is there to catch me and slowly lower me into the unfamiliar waters.
I will probably never be good at change, at least not on the inside. But I am realizing that there is too much beauty and too many wonderful moments waiting to be embraced for me to pout my way through life, wanting to go back through doors which have been closed.
Madeleine L'Engle says that the thing about birthdays is you never lose the ages you've been. I am 1, 2, 3, 4, 5, 6, 7, 8, 9, 10, 11, 12, 13, 14, 15, 16, 17, 18, 19, 20, 21, 21, 22, 23, 24, 25, 26, 27 and 28 today. I have collected all of those numbers and do not turn in the old one for new but add something more brilliant to all I have already been through. Change, it appears, is the same way. I do not lose the white bench by Trout Lake, the memories of laying underneath the stars with my best friends do not lose their value, I just move into a whole new chapter where I have the opportunity to create new colors on a new canvas which I can one day display next to something God has completed.
Change is worth it if we are brave enough to embrace it.
look what you did to me, autumn.
I'm pretty okay with this whole fall thing. Pumpkin spice is a pretty good creamer, boots are pretty cool and aside from the fact that I got rid of 95% of my cardigans earlier this year so I'm kind of always chilly… fall is alright with me.
Pumpkin patches and carvings. Plaid. Cider. Honey sticks. Costumes. Harvest parties.
The other day I was at Camp Arnold, talking to Ellen about leaves. How they fall off trees, but it's not a bad thing. Because they come back in the spring, all full of hope and life and stuff. So I have started to walk slower, to really take in the last moments of seasons full of life and energy and embrace fully the quiet, cozy seasons that will be arriving soon.
What a fantastic world we live in, where trees become engulfed in flaming colors and fall to the ground, the air changes and the days shrink. Part of the spiraling adventure of a life lived with eyes wide open.
someone take my scissors away.
Every so often I get this overwhelming urge to try out a pin on pinterest the very moment it shows up in my feed. That's what happened with this pin about making layers in your hair.
Me + scissors + my hair = TERRIBLE COMBINATION.
Ten years ago I went to get my hair highlighted and instead the lady straight up dyed my hair CANARY YELLOW. It was awful. That began this really terrible time in my life when I would cut my hair like every other week in an attempt to cut out all of the awful color.
Seriously, look at how short my hair was in 2004: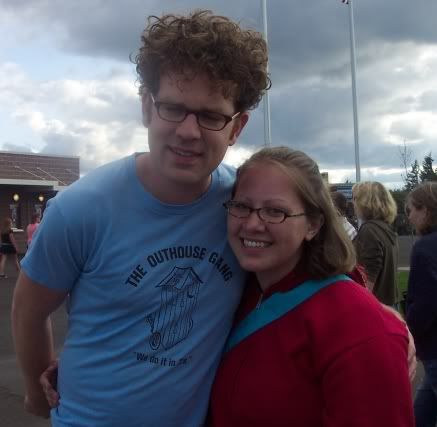 Lately I have been getting really annoyed with how easily my hair has been breaking, and I read this article on beauty myths and it said that you cannot repair split ends. You just have to snip snip. Now you know why I got so scissor happy.
See, here's my kind of frustrated-at-my-split-ends face:
so then I…
I just… kept…. snipping.
Today I put my hair in a braid and tried really hard not to think about what I had done. As soon as I got home, I took a shower and said a prayer of gratitude for Birchbox sending me a conditioner (for curly hair though, which is strange…) a few days ago, and then let my hair air dry. Like Teddy Geiger's tears. I hope someone gets that joke… if not…. just click here.
and this is what the final result is……..
That is my best "WHEN WILL I EVER LEARN TO LEAVE MY HAIR ALONE" face.
Except I'm not even tripping, because my hair feels so much healthier and whatever it'll grow back.
Please leave me comments reassuring me that my hair is still long. Thanks!
Nashville, part one.
Part of me was holding off on writing about Nashville because once I did, it would kind be admitting that I'm no longer there. You know, denial.
For years I've been wanting to go to Nashville, and there have been times when I've even had a plane ticket… that I had to cancel. But then! Then a trip to Nashville became kind of urgent.
See that baby girl up there? That's Layla. I took that picture of us in december of 2011. She and her sister Lucy were about 6 months old. Her dad is my good friend
Ernie
. and a few months after that picture, the Halters moved to Nashville.
I've been watching Ernie and Kristen post all of these pictures of the girls and it seriously killed me. A little tiny part of me died each time I realized they had grown from infants into toddlers and had no idea who I was.
So that's when Nashville became urgent.
People kept telling me all of these things to do and see while I was in Nashville and I kept saying, "my only plan is to spend a lot of time with the Halters."
and that's what I did. and I am eagerly looking forward to the next time I sit at the dinner table with my two favorite twins.

Megan picked me up from Krystin's house, where I sat on the porch listening to the alarm go off because I somehow accidentally set it off when I left. She took me to get breakfast and showed me her wonderful house. She was the last human I saw aside from the Halters for like two days. Which was perfect.
My name got added to the chalkboard. In pink chalk. Perfect.
The next day we went to Kroger. That was the big excursion for the day. This is Layla all ready to leave. That catalog was destroyed by the time we got back.
Yeah, that is a Hello Kitty cape. No, I cannot stand it.
Wednesday, Ernie took me to the Mocha Club office. Which might seem like a kind of silly, little thing. But it was a BIG thing because I have been a Mocha Club member for like 7 years and every time I've planned on going to Nashville I've wanted to go to the Mocha Club office. Then Ernie drove me down Broadway and past the Ryman (which was awesome because the cd in my car back at home was Jonny Lang Live at the Ryman), then down Music Row. I took 0 pictures of any of that. You're welcome.
Twin tip toes! So cute. and the dresses!
Lucy. That face. That smile. !!!
and Layla. I just want to jump back to when this picture was taken and hug her forever. 
Lucy jumped in the toy basket and started throwing everything out of it.
Layla eating strawberries. I swear to you they are the most fascinating people in the history of the world and make even little things like eating strawberries seem so interesting.
and back to Lucy. This was the day I kept calling Layla by her sister's name. She'd look at me and go "…I'm Yaya. That Nucy." and I felt like a jerk every time. Looking at these pictures I can clearly see who is who. That makes me feel better.

Layla brushing her mom's hair.
and listening to her dad's new record.
Listening to "Lucy Wears Red" and recognizing her dad singing her name for the first time. This picture is ridiculous.
The girls have a low tolerance for their dad's music, and this was about the point when Lucy was over it.
Now I'm kinda sad. We'll carry on later.
To. be. continued.
remember the day i met donald miller?
Last year, I met donald Miller. I would give him a capital d, but the d button on my keypad doesn't work so I have to copy/paste it. Anyway. I met him, and seriously, it was one of the coolest things ever.
It had been awhile since I'd printed off pictures (like YEARS, people) and I realized I'd never printed off a picture of me and dONALd MILLER. Then, right before I placed my order, I realized that there are other people who probably need a picture of me and donald.
THAT SAId.
I have 8 wallet sized photos of me and donald Miller.
Let me know if you want one of these bad boys. 

Goodbye, Facebook.
A few days ago, I did something I've been dreaming about for awhile. I deactivated my Facebook.
I'm not going to get super preachy about it or anything, but so far it has been really good for me.
Madeleine L'Engle once wrote (in regards to Lent) that if it's worth giving up for 40 days, it's worth giving up once-for-all. Guess what I tend to give up for Lent? Facebook. The time finally came to give it up. There is no time limit, no list of things I want to accomplish before I activate my account or anything.
I just want to experience the life that is before me. I want to be friends with people who invest time in me, I want to be where I am wholly and completely, and I want to treasure the moments of my life, and evaluating them by "likes" and "comments" and "shares" tends to rob them of their value.
and one thing I've struggled with so much, time and time again, is my blog. This is what my blog is: my treasure box. It is a treasures of my life collecting place. Sometimes that is a bunch of words, and sometimes it is a brief moment.
A few weeks ago, on a day when I remember feeling especially close to deactivating my Facebook account, I pulled over on the side of the road and sat in the middle of it, thinking about life.
and when I got up to get back in my car, I noticed this deadish tree I'd pulled over next to. Right next to the road, nothing at all like it anywhere nearby. It was just this dead plant. and I felt the weight of John Mayer's words:
and I'm not a horrible person, but I know that I am not living the full life God has in store for me. Constantly comparing my life to the life of other's, being judgmental and insecure and angry at the hands of a stupid social media site is not who I want to be, nor who God created me to be.
So that's that. That is the short-winded version of why I dropped off the Facebook grid. and I look forward to adding the treasures of a slow, disconnected life to my little internet treasure box.
it's the climb.
May was haphazard; I felt like I was constantly busy and going and never really able to rest. Then at the end of May, I stepped on an emotional roller coaster and rode that for all of June. I dated this guy who was really confusing and I never knew where we stood and his breaking up with me was more of a relief than anything.
But one of the things that had been a constant issue was that I do not define myself as outdoorsy. Having to define myself was one of the most frustrating, untrue feelings in the entire world. He likes water stuff, like jumping off cliffs into water and rafting and kayaking and stuff.  I personally  like putting my toes in water and reading a book next to it more than I like being on or in it.  Despite that, I said yes when he asked me to do water stuff with him.
Regardless, it kept coming up that I'm not into that stuff.
The Monday after he broke up with me, as I floated down the river with Bradley (ironic, right?) I started talking to Bradley about that, the idea of me not being outdoorsy. Bradley said he understood thinking I'm not outdoorsy because I wear dresses and I never have appropriate footwear and he remembers what happened when we went hiking once. "Have I ever said no to outdoorsy things?" To which he said no.
and I went home with a plan: to buy appropriate footwear, so that people won't think of me as anti-outdoorsy.
I call them my "adventure shoes."
So I took my adventure shoes, got in the car with Beckie, and we hiked to the top of Multnomah Falls.
and it was harder than I'd thought. and there was a lot of spiritual applications and blah blah… I'd really love to write about them since I rarely write on my blog anymore but instead I'm going to go get Lauren Birks and we're going to the mall.
Pictures from the Falls:
still collecting happy things.
I've still been keeping track of things that make me happy, mostly because there are so many wonderful things all around me. I'm slowly moving my way to lucky number 101.

#69. almost full double rainbow

#70. A box full of little almond joy creamers magically appearing at work.

#71. Starting back at the beginning.

#72. a birthday gift waiting for me when I woke up.

#73. this pink cupcake wrapping paper my dad and stepmom used

#74.  birthday coconut mochas with my dad.

#75. early morning coffee with Anna

#76. the aftermath of coffee with Emily and Katie

#77. matching shoes with my spirit animal, Ellen.

#78. being anywhere near Allen.
June 18th, 2013 – I'm alive.
That is a picture of me from about ten minutes ago. I found that piece of paper from many years ago. We were driving from Portland to Seattle to see a second day of Hanson. There were some girls in the car next to us that looked like they could be Hanson fans. So I ripped out a piece of paper from a notebook, made this sign and held it up to the window.
The girls in the other car got excited and started waving and confirming that they, indeed, were on their way to see Hanson.
So I found this paper, which was from years ago, and realized that I have this horrible habit of saving pieces of paper. I save everything. Important packaging from wrapping paper, strings used to tie gifts together, ticket stubs, doodles or notes or drawings.. and I always think "this would be great to journal!"
But guess what. Let me tell you the dates of my last ten journal entries.
June 18th, 2013 (today)
June 10th, 2013 (only to lament about a coconut oil spill in my bag)
June 3rd, 2013 (because I couldn't find my Bible study notebook)
April 22, 2013 (on a plane)
April 21, 2013 (at the Birks)
April 5th, 2013 (after reading my California journal)
February 17, 2013 (at the Worship arts retreat)
February 16, 2013 (at the Worship arts retreat)
February 15, 2013  (at the Worship arts retreat)
December 19, 2012 (to document a piece of wrapping paper and a Starbucks sticker)
TEN ENTRIES in six months. No wonder my little scrap pieces of paper tucked into everything collection is getting bad.
Then I thought about how I haven't really blogged lately. or done anything, really.
My time at home has been spent sitting in my bathroom crying or sleeping, because I just hate calendars and phone calls and text messages and TIME. It's killing me.
This morning I woke up at 5:30. My mom asked why I woke up so early and I said "I have no idea." and I don't. My body let me get four and a half hours of sleep, as if my body is worried it will sleep away valuable hours. So I read a little bit of The Summer of the Great Grandmother (this summer's Madeleine L'Engle book) and cleaned and laid in bed, rubbing my feet together as if warmer toes were what I needed to get out of bed.
Now I have a cup of coffee in my system, warm toes, a journal entry, and this blog entry. I'd love to stay and write some more but time keeps on ticking into the future and I am going to get breakfast with Anna.